Posted 10 July 2018 - 01:19 PM
Do laxatives really work? I've ordered some but idk how many I should take and if they really work

---
Posted 31 July 2018 - 11:47 AM
i take laxatives kind of as a punishment to myself. they don't inherently make you lose but if you aren't eating obviously pooping is going to be hard, they're nice for that. start at the lowest, work your way up to the highest, then start over again. for me it's 1,2,2,2,3,1,2,2.... so on. know your body. also be careful- messing yourself in public is not an experience you need. stay safe, sweetie.
sad girls club
5'9"
hw: 198
cw:179
ugw: 127
relasping. again.
message me about anything
---
Posted 31 July 2018 - 12:28 PM
Laxatives are pretty scary.
It makes you feel like you're doing something proactive, but really, it just messes with your stomach and can cause more health issues. So many.
It's really bad when you can't poop without laxatives...
I would recommend taking a laxative tea occasionally, but hell, I'm a hypocrite. xD
5'3, Female
Wants to be as small as a cat
HW: 144.7
CW: 132.3
CW 126.8
CW: 123.4
GW1: 120
GW2: 117
GW3: 110
---
Posted 22 August 2018 - 09:16 AM
They really do fuck with your system, not worth it. If you're really constipated, bearing in mind that means you actually ate something, drink a lax tea or eat some prunes. That'll help
HW; 72 kg
LW: 49 kg
GW1: 65 kg
GW2: 60 kg
GW3: 55 kg
GW4: 50 kg
UGW1: 48 kg
UGW2: 45 kg
CW: FUCKING FAT.
---
Posted 22 August 2018 - 10:05 AM
Do they work in what sense?
For weight loss? No, because by the time the food reaches the bowels you've already absorbed all the calories. Laxatives just make you feel "empty" by ridding the body of water and food weight, both of which will pass in a few days anyway.
You're better off trying to get more fiber into your diet (adding oat fiber to foods helps a ton) or using more gentle alternatives if you have to.
GW1: 99lbs
GW2: 90lbs
GW3: 85lbs
UGW: 80lbs
(for now)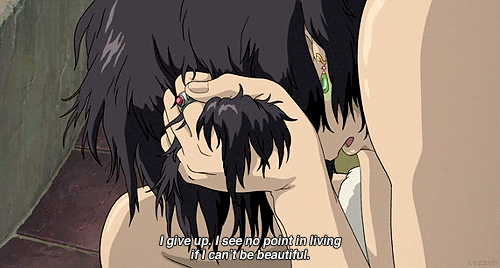 ---
Posted 22 August 2018 - 10:43 AM
They don't actually make you lose any weight. You'll be temporarily lighter because you've gotten rid of all that crap sitting in there...but no actual weight loss.
Also they make you feel like literal shit. Stomach cramps galore. They gave me stomach cramps so bad that I threw up and almost passed out... fun times.
Yeah, I wouldn't recommend them...
5'4" - ish
117 116 115 114 113 112 111 110 109 108 107 106 105
104 103 102 101 100 99 98 97 96 95 94 93 92 91 90
hw: 117
lw: ~94
cw: 109.4
gw1: 110
gw2: 105
gw3: 100
gw4: 95
ugw: 90
---
Posted 22 August 2018 - 11:58 AM
NO NO NO NO. BAD BAD BAD.

Laxatives give you the worst fucking gas cramps ever. Holy fucking shot stay away unless you want to feel like rats are chewing a hole through your stomach.

---
Posted 24 February 2021 - 06:03 PM
Be careful with laxatives, I got immune to them, I could take 20-25 easily with no results. A few years ago I overdosed on laxatives and ever since, even just one will make me throw up. I had to change my eating and do excersises therapy because it became impossible to go unless bowels where liquid,
I suggest lots of water, and wet fibre (carrots, celery, and sprouts all have wet fibre and low carbs) even some abdominal excersises will help you to go easier.

---
Posted 24 February 2021 - 06:23 PM
I honestly advise to never take it if you can!!
It's addictive, and I used to take up to 100 for it to actually have an effect.
5'5/165cm
HW: 60kg LW:35kg
CW: ???
---
Posted 24 February 2021 - 07:21 PM
I used to abuse laxatives and my digestive system is permanently fucked up. i am either constipated for 4 days straight or get extreme diarrhea and never in between. it dehydrates you and can cause ulcers. It also doesn't really help you lose that much weight

I would advise not taking them at all if i were you. they get addictive quickly and it's not really worth it

21/5'4
HW: 131.6 lbs / 59.7 kg (22.6 BMI)
CW: 111.7 / 50.7 kg (19.2 BMI)
GW1: 115 lbs / 52 kg (19.7) ✓
GW2: 108 lbs / 49 kg (18.5)
GW: 100 lbs / 45.4 kg (17.2)
UGW: 90 lbs / 40.8 kg (15.5)
stats updated 7/19/2021
---
---
Also tagged with one or more of these keywords: Laxatives, Skinny
MPA

→

Bulimia Discussions

→


Started by amy234 ,

12 Jul 2018

Laxatives

,

Laxative recovery

and 14 more...

Diets

→

Vitamins, Supplements and Nutrition

→


Started by Jodieleigh88 ,

12 Jul 2018

Diet pills

,

Slim down

,

Laxatives

and 1 more...

MPA

→

Bulimia Discussions

→


Started by ALTerNut ,

11 Jul 2018

laxatives

,

bulimia

,

dulcolax

MPA

→

Anorexia Discussions

→


Started by lovealot ,

11 Jul 2018

laxatives

,

binge

,

weight loss

and 2 more...

MPA

→

Anorexia Discussions

→


Started by Pukeopedia ,

10 Jul 2018

Diet pills

,

Fat

,

Skinny

,

Ana

,

Mia

and 1 more...

Hot

75 replies
15103 views
0 user(s) are reading this topic
0 members, 0 guests, 0 anonymous users