#41 Guest_read_run_restrict_*
Posted 08 December 2019 - 02:32 PM
120g. Fage 2% Greek yogurt
sprinkle Lo-Salt for potassium
tbsp sugar free maple syrup

= salt/sweet creamy goodness <100

Trying_diamonds likes this
---
Posted 08 December 2019 - 03:03 PM
one of my favorite foods is cauliflower! 1 cup has 20-25 cals. i like to roast it and add some spices. when i'm super hungry i can eat a lot and know i won't gain
24 // 5'8" // bmi 22.9
hw 246.8 // cw 150.0 // ugw 121
230 223 216 210 203 197 190 184 177 170 163 156 149 142 135 130 123 121
---
Posted 08 December 2019 - 03:07 PM
one can of tuna in water is 100cals and keeps you full foreeeever
i have been chopping up tons of celery to add to it and i can do half a can of tuna plus loads of celery and a teaspoon dribble of salad dressing all mixed in. Plus a couple bread and butter (sweet) pickle slices!!
harm reduction saves lives and is practical !
we cant always choose to stop the behavior but we can limit harm !
*anorexia, bipolar 1, c-ptsd, adhd*
tall grrl...5'7"
SW: 151 lbs
CW: 149 lbs
GW1: 140lbs
GW2: 130lbs
UGW: 117lbs
LW: 101lbs
---
Posted 08 December 2019 - 03:25 PM
uwu
cw: 169.4
lw: 106
hw: 184
gw 1: 134
gw 2: 105
ugw: 82
---
Posted 08 June 2020 - 03:47 AM
80g plain fat free greek yogurt
1 cup berries
optional stevia or other sweetener
SALAD
1 pouch tuna 70 cal
1 tbs pain greek yogurt 10 cal
1 tbs nutritional yeast 30 cal
.5 tbsp chia seeds 25 cal
.5 cup diced tomato 25 cal
8 oz lettuce 40 cal
makes one 200 cal meal or two 100 cal meals
5'3"
cw 109
hw 155
lw 75
sw117
gw 105
ugw maintain above 100 below 115
F*** you ED!
---
Posted 08 June 2020 - 08:55 AM
1/2 tablespoon miso paste - 17 cals - made into a bowl of soup with hot water
30g cooked beansprouts - 12 cals
1/4 can sliced mushrooms - 8 cals
add chicken salt, dried chilli flakes and any other low cal veg you like
---
Posted 10 June 2020 - 10:16 AM
Riced cauliflower is bomb af. With 25 cal per 100 grams u can easily spice and dress it up however u like but I like it over seasoned and baked.
---
Posted 11 June 2020 - 03:50 PM
I'm gonna follow this cause I need these
---
Posted 04 December 2020 - 04:41 AM
PLEASE PLEASE PLEASE IM BEGGING YOU
GIVE ME SOME LESS THAN 100 CALORIE MEALS MY LOVES!
I'm on the blue jeans diet,,, AND REALLYYYY NEED IT.
(I'm on day 2, stuck with it so far, switching the fast from Thursday to Wednesday, and then carrying on with the rest)

ID BE SOOOO GRATEFUL TYSMM
1 poached egg (70c)
boiled spinach with lemon juice on top (one cup raw spinach is 7 c)
8 tb whipped cream (100c)
tuna can in water (100c)
zucchini "pasta" (1 zucchini is 33c)
---
Posted 04 December 2020 - 07:05 AM
- boiled egg (1) ~80 kcal
- cabbage soup (just add some boiled cabbage, pepper and 1 low cal chicken stock cube)- can't remember calorie amount but is very low
- cup of soups - tomato is the lowest ~70|80 calories for a cup of it
- boiled spinach is quite low if you refrain from adding anything to it
- miso soup
- plain piece of toast (60-80)
- rice cakes (25 per rice cake)

Anorexia Nervosa, PTSD, Depression, Anxiety
It is during our darkest moments that we must focus to see the light.
(Aristotle)
---
#51 Guest_No_XoX_*
Posted 03 January 2021 - 04:34 PM
Ok so I personally have a lot of smoothies for my meals as it is very filling and I find it a good substitute. This smoothie is 108 calories but is really good. Just blend:
-4 cups of ripe strawberries
-1 cup of low fat yogurt (plain)
-half a cup of orange juice
-1 tbsp of sugar (optional)
it has Per serving: 108 calories, 4 g protein, 2 g total fat, 1 g saturated fat, 5 mg cholesterol, 21 g carbohydrates, 4 g fibre.
(It makes 4 servings)
---
Posted 03 January 2021 - 04:35 PM
Soup soup soup

"If it's for your sake.. I don't mind being locked in this eternal maze."
---
Posted 03 January 2021 - 04:40 PM
Coffee Jelly!

Gesendet von meinem Mi Note 10 Pro mit Tapatalk

---
Posted 03 January 2021 - 05:52 PM
Salad made w/ lettuce, pickles, and onions
Egg whites scrambled w/ Pam and served with a wedge of Laughing Cow cheese (light version)
Chicken broth w/ kale, carrots, and cauliflower
Smoothie made w/ unsweetened vanilla cashew milk, berries, and baby spinach
1 cup of plain Cheerios or cornflakes
1 slice of Toast w/ light margarine
Deli Turkey/chicken slices w/ light mayo and banana pepper slices
1 small baked potato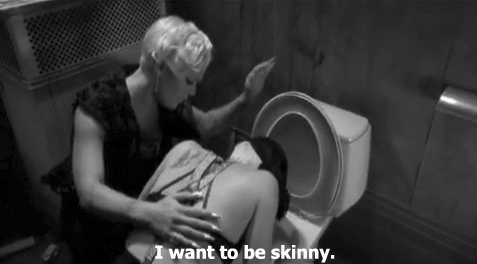 Height: 5 ft 7
Ultimate Goal Weight: 83-89 pounds
Ultimate Goal BMI: 13-14
---
Posted 27 January 2021 - 10:10 AM
Konjac noodles and womboka
Zucchini/cucumbers and tomato salad
baby spinach and mushrooms salad
carrots snd celery
168cm (damn scoliosis)
Post-latest IP HW: 53kg | BMI: 18.77
HW: 49kg | BMI: 17.36
LW: 32kg | BMI: 11.58
CW: 39kg | BMI: 13.84
GW: 🪶 or death probably
AN - r
---
---
Also tagged with one or more of these keywords: 100 calories, Diet, Blue jeans diet
MPA

→

Anorexia Discussions

→


Started by Guest_miru_* ,

13 Jul 2018

ana

,

diet

,

motivation

,

help

Hot

179 replies
62937 views

MPA

→

Anorexia Discussions

→


Started by think-skinny-be-skinny ,

11 Jul 2018

diet

,

food

,

restrict

,

fast

Hot

207 replies
21501 views

MPA

→

Anorexia Discussions

→


Started by Pukeopedia ,

10 Jul 2018

Diet pills

,

Fat

,

Skinny

,

Ana

,

Mia

and 1 more...

Hot

75 replies
15103 views

MPA

→

Anorexia Discussions

→


Started by Quintessential Skinny ,

10 Jul 2018

100 calories

,

Ana

,

Anorexia

and 7 more...

Diets

→

Diet Results

→


Started by graciegoo ,

10 Jul 2018

diet

,

thin

,

pretty

,

goals
0 user(s) are reading this topic
0 members, 0 guests, 0 anonymous users